What is Myelin?
Myelin is like the plastic insulation around an electric wire. It helps electricity pass through the wire effectively and efficiently, in other words, quickly and smoothly. Myelin helps signals pass through the brain "wires" quickly and smoothly. Myelin is actually fatty and is white in colour.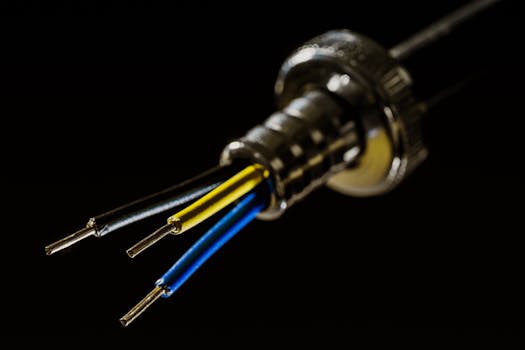 For decades, it was believed that myelin could not be repaired or improved, and that MS was incurable. I was told that it was not possible for my brain to heal, and that, despite having initial signs of improvement, any improvement would most likely halt soon. However, over the last decade, this idea is beginning to change!
Damaged myelin: what happens in multiple sclerosis (MS)
Damaged myelin is like the insulation of my neural "wires" having holes, similar to an old electric wire where the inner copper wires can be seen through the holes. I imagine some of the signals from the brain getting lost through these holes or changing shape as they pass through this holey pipe. This means that signals from the brain are not going to get through as quickly, if at all, or they may be distorted.
What effect does this have?
If the signals from my brain are distorted or prevented from passing through, the desired action may not be carried out properly. For example, when I try to walk, I have to concentrate on (mentally) telling my left leg to lift up once my right leg has landed on the ground. However, often when my brain sends a signal to tell my leg to lift up to take another step, the signal doesn't get through so my leg doesn't lift itself or, if the signal gets distorted, my leg doesn't lift itself up enough, or it lifts too late. The outcome is usually that I trip!
My personal thoughts on what causes the damage
What causes this damage? This is the big question! Although the cause is still not known, I have my own ideas on this. I am NOT a doctor, an MS expert, or a nutrition expert but I DO live with MS and have met many others with different severities of MS. The following is a summary of one of my personal thoughts on why I believe I have MS and I am not trying to deny any information that professionals believe. For me, I believe the main reason that caused holes to appear in my myelin is a lack of (good) FAT intake.
Since the age of 10 (1980), I was on a low fat diet most of the time, always trying to get thin. This meant that I avoided all types of fat and always opted for the low fat versions of everything, which are usually high in sugar/artificial sweeteners, for example, yoghurts, cereals, sauces, and spreads. I also drank a fair amount of diet, carbonated drinks, also high in artificial sweeteners, to satisfy my sweet tooth. Furthermore, I never ate oily fish, e.g. salmon and mackerel. Essential fatty acids, which are vital for brain function, are not produced by the body and therefore must be consumed. It is only now that I realise that the fatty myelin is important to my neural "wires", and that possibly stopping the intake of "essential fatty acids", such as omega 6 or omega 3, into my body for over 25 years (!), meant that my myelin could not replenish itself with the necessary nutrients and essential fatty acids. Little is known about both de-myelination and re-myelination (in the central nervous system and brain) but it would seem logical that a deficit in my fat intake over many years could lead to holes in my fatty myelin. Cholesterol is also required by the body to make vitamin D, the very vitamin deficit that has been linked to MS (For review of research see: Sintzel, Rametta & Reder; 2018) https://link.springer.com/content/pdf/10.1007%2Fs40120-017-0086-4.pdf.
More FAT
A couple of years ago, I read a book by Dr. Terry Wahls called "The Wahls protocol", which explained how nutrients influence your cells. Dr. Wahls had been a practising GP when she became wheelchair-bound with MS. With her medical knowledge and personal experience, she produced a healthy way of living that she has shown to help MS and many other diseases. Today, Dr Wahls is walking again and even cycling and has helped hundreds of people improve their MS symptoms. I decided to try the high fat, low carbohydrate diet (cutting out sugar completely) and the results were amazing.
My improvements
It had been over ten years without any feeling in my left hand fingertips. I had assumed that the nerves had all died and that I would never be able to feel my fingertips again. After only a few weeks on this high fat, low carb (HFLC) way of eating, the feeling came back and I can feel my fingertips again.
Likewise, I noticed a huge difference in my brain. Often my brain would struggle to think straight, would get tired quickly, would be easily overwhelmed, and would not cope well with over-stimulation. After a few weeks of this eating plan, I began to notice that my brain had indeed improved and still continues to improve. Another improvement has been the coordination between my left and right side, for example, my walking is more balanced, and my left hand can participate in everything again. The improvements really have been incredible and I am so thankful to have found Dr. Wahls and grateful for her book.
Diet has certainly played a huge part in my improvements and, before I move onto other things that have helped my MS, I will continue on this "food" theme. Next time, I will talk about the toxic effects of sugar/ sweeteners on my body function and brain. Thank you for stopping by and be sure to subscribe. If there are specific areas of interest that you would like me to write about, please let me know in the comments, I'd love to hear from you!